The Chairman of SCIC held a meeting with the delegation of International Monetary Fund (IMF)
Super User

Hits: 965
Rating:

( 3 Ratings )
In the afternoon of 18/4/2022, at SCIC's headquarters, the Chairman of SCIC's Board of Members, Mr. Nguyen Chi Thanh held a meeting with a delegation of IMF led by Mrs. Era Dabla Norris – Assistant Director of Asia Pacific Department – Head of Delegation IV. Joining the delegation, there were Mr. Francois Painchaud - Resident Representative of IMF in Vietnam, economists of IMF office in Vietnam and representatives of the State Bank of Vietnam.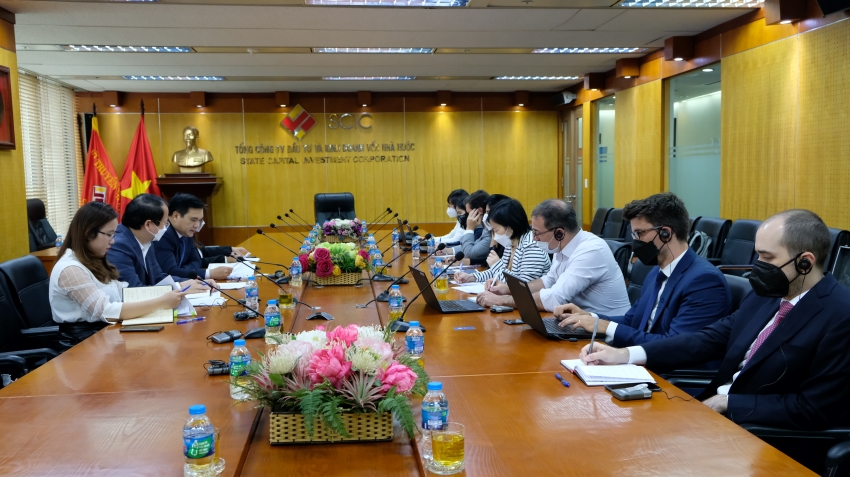 At the meeting, within the SCIC's functions, Mr. Nguyen Chi Thanh had exchange and discussion with the delegation about fields of mutual interests.  
In terms of SCIC's operation results, Mr. Nguyen Chi Thanh informed that over the last 16 years, SCIC has successfully received and divested at more than 1000 enterprises. The recent SCIC's portfolio includes nearly 150 enterprises and to be divested in the upcoming time. The total assets of SCIC is estimated as roughly USD 8,6 billion, standing at 66/100 in the list of global largest sovereign wealth funds in the world.  
Sharing SCIC' difficulties in the process of state capital divestment at enterprises, Mr. Nguyen  Chi Thanh thought that the key factors affecting the divestment include low demand in foreign investors' interest in SCIC divestment, enterprises' information transparency and publicity issues,  inadequate shareholder structure in each enterprise and more time consuming in order to complete the legal framework regulating state capital divestment at enterprises, etc.
In terms of COVID-19 pandemic effects, Mr. Nguyen Chi Thanh stated that over the past 2 years, in the international context in general and in the Vietnamese context in particular, SCIC has faced certain challenges in the divestment, such as decreasing demand from foreign investors, slow implementation progress in divestment, etc. For enterprises with SCIC's capital such as Vinamilk, VN Steels, Vietnam Airlines... also had to adjust many difficulties due to high input costs and scarcity of raw materials. However, overcoming those challenges, in 2020- 2021, SCIC divested state capital successfully at more than 20 enterprises, exceeding the plan in both volume and value. 
Discussing about the SCIC development direction in the upcoming time, Mr. Nguyen Chi Thanh noticed the delegation of IMF that SCIC has finished the draft of development strategy for the period of 2020 – 2025, vision to 2030 and submitted it to relevant authorities for approval. Accordingly, SCIC will be directed to transform to a model of sovereign wealth fund with key missions gradually converted from state capital receiving and governance at SOEs into capital investment. In 2021, executing the Prime Minister's direction in supporting enterprises facing with difficulties caused by Covid 19 pandemic, SCIC has disbursed roughly 6900 billion VND to invest in acquiring shares of Vietnam Airlines which accounts for nearly 31% Vietnam Airlines's charter capital.
 About SCIC's investment and business plan, Mr. Nguyen Chi Thanh said that in order to implement directions of the Government in Resolution No. 11/NQ-CP on social – economic development and recovery plan, with the role as a sovereign wealth fund providing ''leverage capital'' in attracting investment capital of large financial institutions, in the coming time SCIC will consider to disburse  in projects that qualified SCIC investment criteria and in accordance with the government direction such as infrastructures, harbors, highways, energy and telecommunication….
At the end of the meeting, the Chairman expressed high appreciation to bilateral cooperation in information sharing between SCIC and IMF so far and expected to continue receiving support and accompany of IMF in the upcoming time, especially in education, technical assistant in SCIC's capacity building. In response, IMF's representative, Mrs. Era Dabla Norris also stated appreciation to SCIC for valuable information shared to IMF's delegation and commit to continue supporting and cooperating with SCIC in the upcoming time./.   
---